Waterbehandeling Natriumbisulfaat Cas 7681-38-1
Natriumbisulfaat,
ook bekend als natriumwaterstofsulfaat (NaHSO4), een zuur salt.It een droog granulair product dat veilig kan worden vervoerd en opgeslagen. De watervrije vorm is hygroscopisch. Wit monoclinisch kristal poeder. Relatieve dichtheid is 1,49. Het is heel gemakkelijk om in water op te lossen en minder te oplossen in alcohol. Het zal ontleden bij het verwarmen. Het is gemakkelijk te oxideren of zwaveldioxide te verliezen.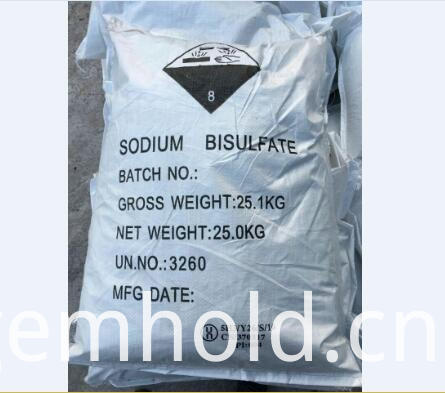 | | |
| --- | --- |
| Items | Standard |
| Purity (as NaHSO4): | 92-96% |
| NaSO4: | 6.0% max |
| Iron (Fe) | 0.05% max |
| Water insolubles | 0.1% max |
| Moisture | 0.8% max |
A. Als PH modificerende middel om vitriol te vervangen en gebruikt als wasmiddel voor keramiek, marmer en toilet, of gebruikt als voorbehandelingsmiddel voor zure was- en platingcoating.
B. Het wordt ook toegepast in bleekmiddel, leer, hulpmiddel, oplosmiddel voor het smelten van minerale, ontsmettingsmiddel en wasmiddel voor dagelijkse chemische stoffen
industrie, grondstoffen voor sulfatezouten en natriumaluminium, en slso gebruikt als petroleum-artesische put en ameliorant
1) Lagere pH tot ideaal bereik van 7,2-7,6 ppm
2) Stopt oogirritatie, bewolkt water en schaal veroorzaakt door hoge pH
3) Verbetert het vermogen van Chloor om bacteriën en algen te bestrijden
4) Bevat granulair natriumbisulfaat
C. Het belangrijkste bestanddeel van zure schoonmakers voor huishoudens, industriële zuivelproducten, zijn wij een belangrijk marktsegment in de schoonmaakmiddelen
D. Bovendien wordt natriumbisulfaat ook gebruikt om water te behandelen, bijvoorbeeld om de pH-waarde van zwembaden vast te stellen.
E. Andere toepassingen voor natriumbisulfaat zijn in kleurplanten, textiel in de leerindustrie en in de metaalindustrie. "
pH Minus wordt gebruikt om de pH te verlagen tot een ideale bereik van 7,2 tot 7,6 ppm.
Stopt oogirritatie, bewolkt water en schaal door hoge pH. Verbetert het vermogen van chloor om bacteriën en algen te bestrijden.
F. Gebruikt als PH modificerende agent om vitriol te vervangen en gebruikt als wasmiddel voor
keramiek, marmer en toilet, of gebruikt als voorbehandelingsmiddel voor zure was- en platingcoating. Het wordt ook toegepast in bleekmiddel, leer, verven hulpmiddel
Product Categorie : Waterbehandelingskemikalieën